Other Components of the SPEF-R© Package
I know about the User Manual and the SPEF-R©. What are the other tools used for?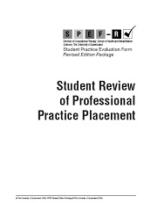 Student Review of Professional Practice Placement
This tool is used to facilitate student feedback in relation to the practice placement.
Questions cover the following issues.
orientation process/activities
expectations
learning environment
communication
Students are asked to note examples of experiences that have been particularly worthwhile as well as providing specific suggestions for change.
This feedback aims to assist practice educators in providing meaningful and relevant learning opportunities.
---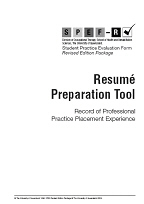 Resumé Preparation Tool-Record of Professional Practice Placement Experience
Students use this tool to record workplace specific learning experiences gained during the practice placement.
Information noted may include
practice frameworks
service user/stakeholder characteristics
important legislation/policies
key information gathering/service provision and evaluation strategies
Such details are invaluable when students need to complete selection criteria and employment applications.
It is anticipated that use of this tool reduces the onus on practice educators to provide background workplace information in the halfway/final summaries.